Experts in all aspects of wood flooring in Surrey
Below is a small selection of our great customer feedback
Floors sanded, sealed and varnished.
"The results of Alan's sanding were above my expectations. I feel like I have a new floor! Alan is very personable and I felt very comfortable with him doing the work and trusted him. He turned up every day as he said he would and tidied up every afternoon. I would definitely recommend him!"
– Customer in London, 3 September 2014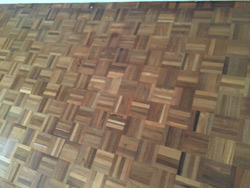 Restore parquet flooring.
"Excellent job, very pleased with the flooring. Would recommend again and use again. Thanks Alan."
– Customer in Esher, 1 August 2014
Restore wood floor in living room.
"Sanded, varnished and filled gaps on exposed floorboards in living room. Alan turned up on time, finished the job on time at a reasonable price and the floor looks excellent. Would strongly recommend."
– Customer in Worcester Park, 27 June 2014
Excellent job in reasonable time at a good price.
Alan has done work for us at a previous property, so we knew it would be a good job. In fact it was a brilliant job. Two rooms and a twenty foot hallway completely repaired, sanded down and treated all to perfection. It looks like a new bungalow now. His charges were very reasonable too. We highly recommend AA Flooring Contracts to anyone.
From: Mr Colin & Anne Thompson, Sutton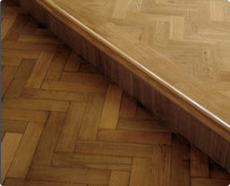 Repaired, sanded and sealed woodblock floor in hall and cloakroom.
Mr Lovell has transformed our rather tired looking floor. He both repaired and sanded it whilst leaving no mess. He worked quickly and efficiently, minimising the inevitable disruption to us. We are delighted and would highly recommend him.
From: Mrs Fecci, London
Restoring the original wooden floor.
Alan did an amazing job restoring the floor in our house. He has managed to make the floorboards look brand new without replacing the boards. He was quick, efficient and very tidy. I would highly recommend him.
From: Mr Philippe, London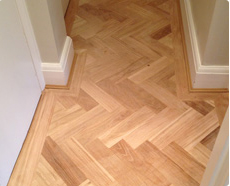 Restore an old 1930s parquet flooring
Alan's approach to the job and his execution were excellent. The floor was a tired and discoloured 1930's oak parquet floor that I did consider removing because of the state of it, I am so pleased Alan was able to restore to its former glory. Alan was tidy, efficient, clear in his communication and pleasant to deal with and arrived on time each day as he stated with all the tools he needed. I would highly recommend Alan and intend to ask him to undertake another floor. I have renovated a couple of properties and have had many many trades so I know a good one when I see one and that's Alan.
From: Ruth Cole, Thames Ditton
Sand, fill and varnish original floor boards
Amazing! The finish of the floors far exceeded my expectations. Alan filled in holes, replaced one badly damaged board, removed screws and replaced them with small nails and then sanded, filled and varnished the floors to a shiny perfection. He was always on time and I left him in the house on his own to work whilst we were at work. We were able to get in to the house in the afternoon as Alan made sure he finished early enough for everything to dry. Generally the work was done in a way which created minimal disruption and I am extremely pleased with the result. So much better than laying a new floor. We may just have to do the rest of the house now! We'll definitely be recommending him to friends.
From: Mrs Nefeli, Sutton.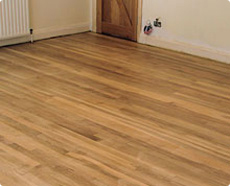 Sanded & Varnished/Kitchen/Dining room
Excellent service and quality of work I am delighted
15th April 11 Mrs Karren Brazier London
Sanding and Sealing Ash Floor
Alan is a true professional. The floor looks truly amazing
26th May 11 Mrs Evans Staines
Laid, Sand and Seal Merbau floor
Alan has done work for me before and i am happy with all aspects of work, clean, tidy and punctual
23 Aug 11 Miss Powell Sutton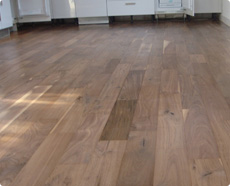 Sanding and Sealing floorboards in Victoria Terrace
Alans service of work was excellent, i would recommend him to anyone
31st Dec 11 Mr J Fielden London
Sanding and Varnishing and Repair to Lounge and Hall Parquet Floor
Excellent and so helpful. I would not hesitate to recommend Alan. The finish was excellent
15th Jan 12 Mrs Pauline Fenston Sutton
Wooden Floor Sanded
Worked very well and cleaned up after
7th Feb 12 Paraskeras Sutton
Sanded and sealed family room flooring.
A very tidy job. The quote for the work was very reasonable and I would recommend this company. I intend to use them again to sand my hall flooring.
From: Mrs Eve Cottrell, Epsom
Sanded and varnished floors.
Alan repaired, sanded and varnished the pine floors in our bedrooms, hall, living and dining room. We are very pleased with the work he has done and they look even better than we thought they would. Alan was always on time and informed us of the work that would take place that day. His quote was a lot less than the other estimates we got using Checkatrade but that does not reflect the high standard of work he produced. Would have no hesitation in using his service again.
From: Mr John Leith, Sutton
Sanded and Varnished wooden floorboards.
Alan has done a lovely job of our wood floor in our open plan sitting / dining room. He sanded the floor, filled all the larger gaps / holes and finally applied the varnish and the floor now looks as good as new! Because we were in a hurry to get it finished, he worked over the weekend to fit us in. Excellent job and very happy customers. Many thanks, we definitely recommend your services.
From: Mrs Helen Myles, Esher
Sanding, filling and varnishing original Victorian floorboards.
Alan did a fabulous job on sanding, filling and varnishing our original Victoria floorboards throughout most of the ground floor of our house. He was tidy, courteous and the job was done to an excellent standard and on time. He informed us of what he was doing and when we would need to leave the floor to dry meaning the minimum of disruption to us and our two children. He is trustworthy and reliable and an excellent craftsman. We recommend Alan highly.
From: Mrs Macfarlane, Hampton